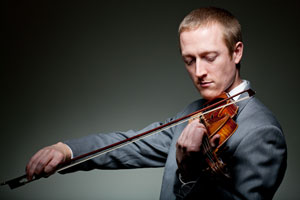 Joel Pattinson Bio:
Joel Pattinson is a two-time graduate of the University of Wyoming with a BA and an MM in Violin Performance with specialties in String Pedagogy, Renaissance and Baroque Theory, and Baroque and Classical Performance Practice. His teachers included Brian Hanly, Javier Pinell, Sherry Sinift, Roy Malan and Neil Weintrob. In that time participated in master-classes with performers like the Lark and Emerson String Quartets. In addition to performing with the Fort Collins and Cheyenne Symphony Orchestras, Joel was concertmaster of the UW Symphony and Chamber Orchestras and a finalist in the Dorothy Jacoby Concerto Competition Mendelssohn's E minor Violin Concerto.
After studying contemporary guitar with the legendary Toby Knapp Joel toured with multiple rock bands traveling North America and the European Union.
Joel taught for the University of Wyoming String Project and String Academy (modeled after Indiana University's pedagogy programs) under master teachers Sherry Sinift and Jim Przygocki. A founding member of the Vedauwoo String Quartet Joel also led concerts with the Silver Bay Chamber Group of New York. Joel continues to serve as Concertmaster, soloist, section principle and chamber musician with many ensembles in California. A frequent soloist with choirs like Resounding Achord and the CCDA, Joel has also performed with vocalists like Sarah Brightman and Il Volo.
Coaching local youth ensembles, Joel's students play with all of the major youth orchestras in the Bay Area and include concerto competition winners as young as the age of 5.